Sevilla, Spain is not the first place people think of visiting in Spain, as they typically get distracted by Barcelona and Madrid. However, if you're looking for something completely different and unique, look no farther than Sevilla.
This gorgeous and historic city combines stunning Moorish architecture and Spanish streetlight that's loaded with affordable and delicious tapas. Fans of Game of Thrones will be pleased to find out that they'll be able to visit a stunning filming location here as well.
Sevilla is really one of the most underrated gems that Spain, and Europe as a whole, has to offer. Even in the blazing heat of the summer months, the gorgeous city welcomes you with a warm embrace and a flamenco dance. As you stroll through the well-adorned city, you'll find that just walking around is an enjoyable experience. However, while you're here, there are definitely several sites and attractions that you absolutely cannot miss.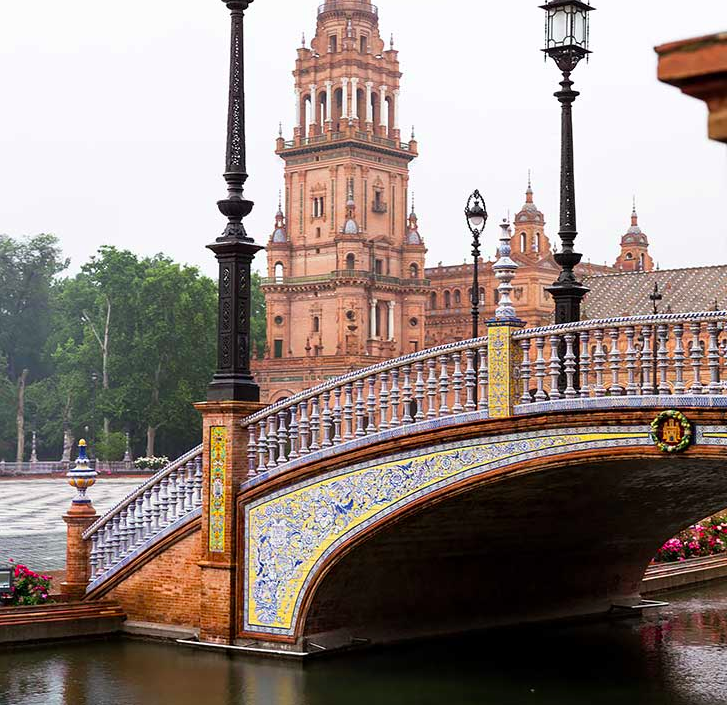 While in Sevilla, you must visit the Alcazar de Sevilla, which is the scaled down version of Granada's Alhambra. If you haven't visited the Alhambra, it's an easy train or bus ride away from Sevilla, and a perfect location for a quick day trip. Even if you have a limited amount of time in Spain, it's worth the day trip for sure.
Sevilla's extravagant Alcazar also welcomed Game of Thrones' cast and crew, as it was the location chosen for the Water Gardens of Dorne. Fans and non-watchers alike will truly appreciate visiting this beautiful place. Can you recognize the gorgeous palace from the scenes of the show?
Make sure you visit both the indoors and outdoors of the palace. Inside, you'll find beautiful Moorish style decorations that include intricate mosaics and wonderful patterns reminiscent of its Islamic past. Outside, you can enjoy the beautifully kept gardens, with a wide variety of flowers, trees, and small pools of water that make up the gardens.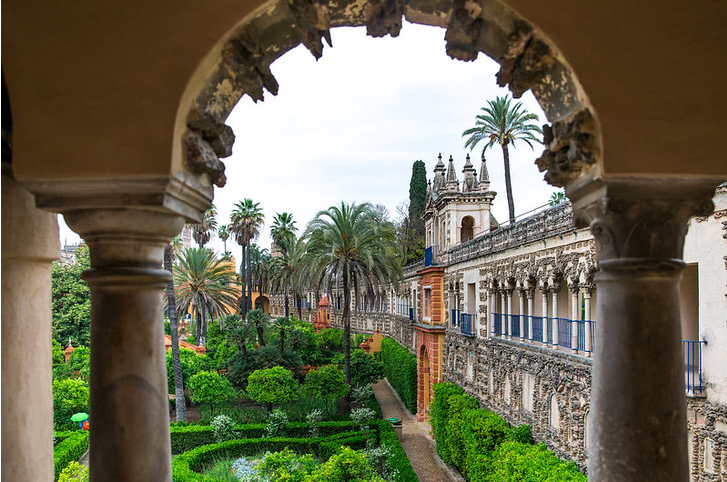 Another stunning site to visit is the Plaza de Espana, which is also a World Heritage Site. This extravagant half circle os structures used to be the main pavilion of Spain in the 1920's and is now how to government offices.
The gorgeous and massive structure is seriously impressive, as it's lined with rows and rows of arches and columns that make up the hall. However, the most impressive part of the Plaza de Espana as a whole is the incredible amount of details that are included in every single square inch of the structure. Everywhere you turn your gaze to, you'll find colorful and vibrant details, whether on the building itself or the floor surrounding it.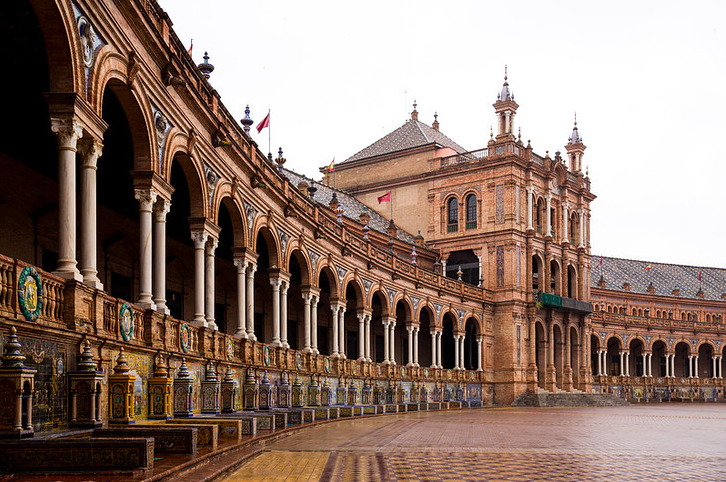 While is Sevilla, be sure to sample the local tapas, for affordable and delicious fare. Tapas are a Spanish staple, and we doubt you'll be able to get through a vacation in Spain without sampling these delightful bites, even just once.
Both modern and traditional variations are available, so make sure you know which is which and try to sample both! El Rinconcillo is the oldest bar in Sevilla, and offers some of the city's most delicious tapas. While you're there, make sure to check out the beautiful mosaics that adorn the walls and the traditional foods that line the shelves. One absolutely can't miss tapas item on the menu is Jamon Iberico, or Iberian ham. It's served thinly sliced and simply melts in your mouth like butter. You absolutely cannot go to El Rinconcillo without sampling this heavenly delight.